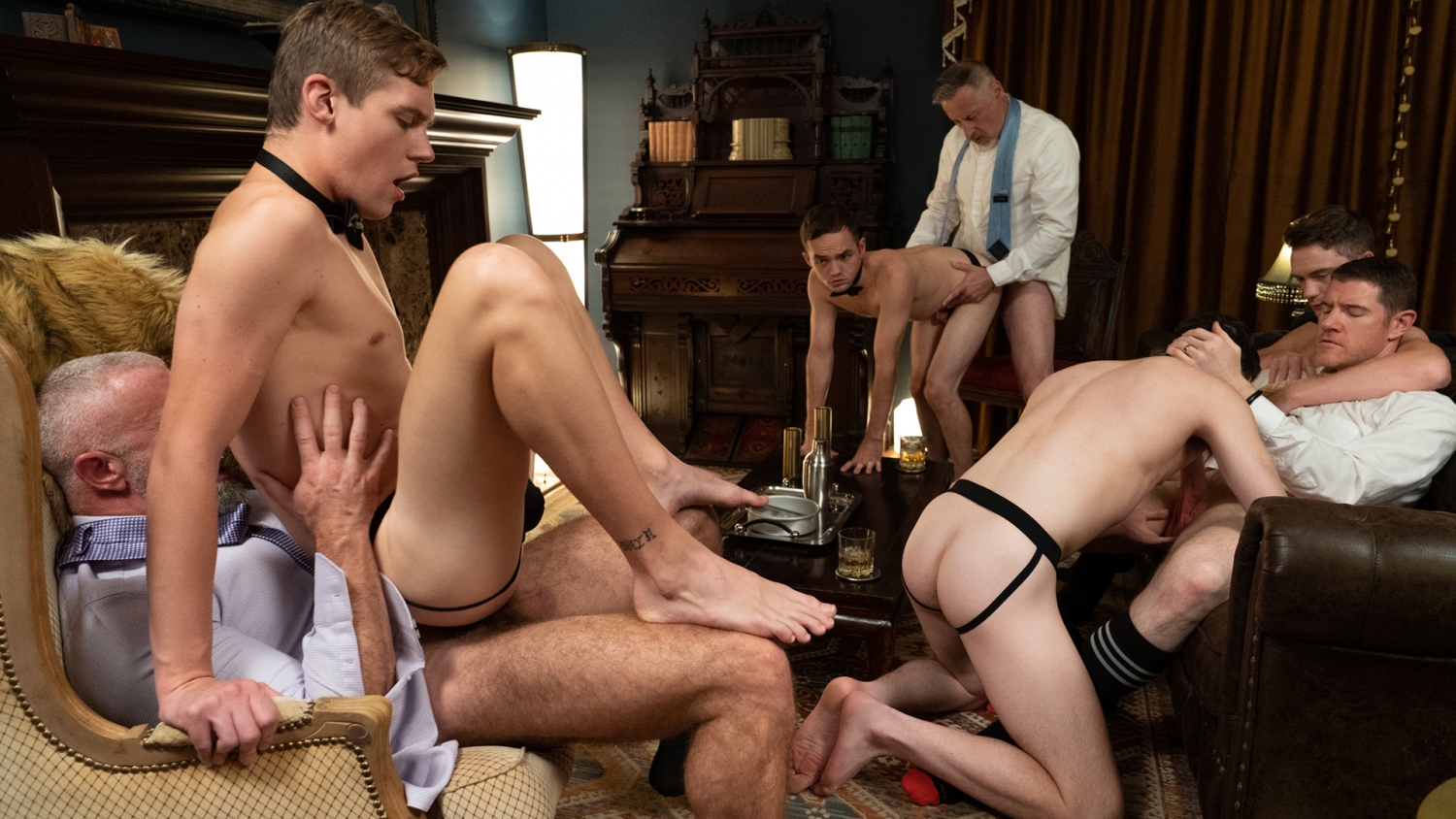 THE BUYER'S GROUP : Chapter 8
Party Favor
The holidays represent a special time for the buyers. As they're spending time with their families, seeing the work from their businesses flourish and pause for the end of the year, they can't help but take time out to celebrate their fortunes as masters.
As they sit ...
Read more
As they sit around a cozy fire, sharing libations and laughter, they're well taken care of by the boys that serve them. Some provide pleasant backrubs, some serve drinks, and others just simply give the men their bodies to view and touch.
It's not always about sex when it comes to submission. Sometimes it's just about showing deference and obedience to the men that sit superior. Of course, after some time for the ice to melt and the room to heat up, natural urges have a way of coming out.
The boys do their best to satisfy the needs of the horny men. Boys Cole and Troye sit beside Master Legrand, flanking him on the couch as he eagerly unsheaths their cocks from their black jockstraps. He kisses up and down Troye's smooth, toned body, feeling his youthful flesh tight against his fine suit. He pulls out his hard member, feeling the boy's arousal for him growing, and takes it into his mouth as a fitting chaser for his drink.
Boy Marcus grinds up against Master Houser, giving him a lap dance of sorts as the handsome older man watches him inspire an erection. Master Houser loves being able to sit back and let the boy do the work of getting him hard, knowing that he's saving his energy for the intense fucking he's going to give him once he's fully hard.
Master Charger moans in the back, sitting closest to the fire and first to feel the heat of a boy's mouth on his member. Boy Jack unzips his fly and patiently brings the silver daddy's cock to his lips, letting an exhale of warm breath pass over his exposed dick before taking it to the back of his throat. Master Charger barely even sips his drink as he experiences the pleasure of a beautiful set of lips wrapped around his manhood, looking over the room at his colleagues similarly being serviced.
Passions intensify as the boys are teased into submission. Their cocks stroked and their holes licked as they await their prize for the evening: deep, intense, bareback fucking from whichever of the masters choose to take their holes...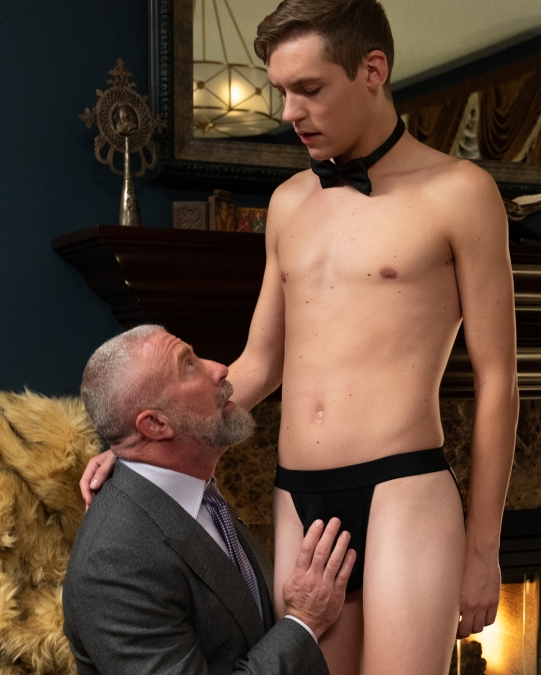 Jack comes from a long line of powerful men. Everyone before him has shown incredible promise, excelling in their chosen fields and becoming pillars of the community and the family. It's a big, cold shadow to have to live in, striving to be like his father and grandfather. When he became aware of the world of buyers, masters, and slaves, he felt he'd found a unique answer to a problem he didn't know he had. He knew he'd never be like the men in his family, but he found himself drawn to the idea of serving men like them. He fantasized about being submissive, taking care of their needs in every way, even taking their hard, deep, bareback breeding. Luckily, Jack's grandfather happens to be a master and was happy to show him what life is like on the other side of the power dynamic.
Master Charger is brought in to appraise the merchandise of the collective, inspecting the young men to give their owners honest, impartial value for resale purposes as well as to feel secure in their investments. A prized specimen in his own right, Master Charger is a stunningly handsome mature daddy with salt and pepper hair, a trimmed beard, a bodybuilder's physique, and a powerful, insatiable desire to breed. Whether on the auction block, up for assessment, or the property of the dom, boys tremble and quiver at the thought of being under foot to the powerful daddy, making him an impressive presence among the buyer society.
Master Houser - Master Houser projects power and gravitas. His stone cold, steel-gray eyes and salt and pepper beard make every boy tremble in intimidation. He's even known to make full grown men kneel in awe. He loves the attention he gets for his appearance and presence, but nothing is more special than seeing a hungry, submissive young man beg to suck his cock. As he looks down, slowly unbuckling his belt and seeing a slave's mouth water for his meat, he knows he's in a position of superiority unlike anything else in the world. He likes to take his time and really see a slave struggle to stay patient, sweating as they wait for permission to satisfy him however he likes.
Master Legrand works hard and knows what he likes. He's tall, handsome, and perfectly hung. He could get any man or boy he wanted, but traditional, casual sex doesn't always satisfy him.

Fortunately, he belongs to an elite cadre of gentlemen who share similar tastes and desires--in particular, a desire for those who long to be owned. He loves the thrill of being worshipped by a truly submissive boy, not just someone playing a part.

As a member of this secret group, he's able to indulge in his deepest fantasies with the most pristine, virginal boys without compromising his innate dominant nature.