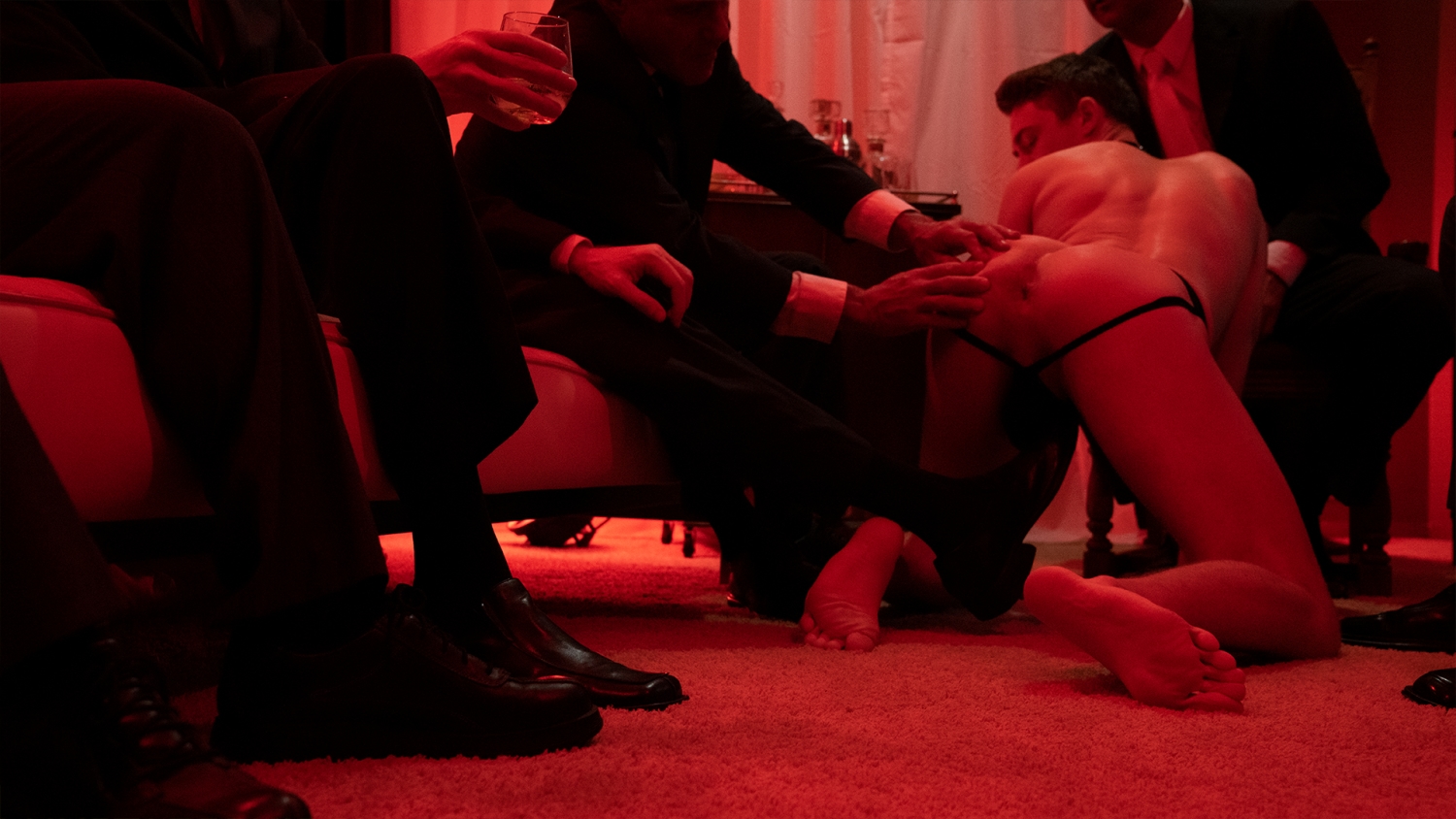 Auction Party Favor
There's nothing quite like seeing a boy be of service. When Master Oaks invited us to enjoy some cocktails before the auction of his slave, Cole, I knew we were going to be in for a treat! Master Oaks likes to show off what he has sometimes… And I can't say I blame him; Cole is an exceptional piece of property.
As he walked ...
Read more
As he walked around the room carrying out drinks, wearing nothing but his jockstrap and collar, I was able to sneak some glances at just how he was built. Very firm, athletic, tall. His ass hung out of the straps like they were sculpted for that purpose. We carried on, finishing up our conversations about work and life until Oaks ordered his boy to show us his hole.
As if on cue and perfectly trained, Cole presented himself to us. His ass split perfectly without needing to be touched; showing both his smooth, soft cheeks and tight pucker. The other men and I couldn't help but give it a feel. He was very accomodating, moving to each of us, giving us a chance to sample his wares. His beautiful face was just as desirable as the cock that hung between his legs!
Seeing how the other men played with him, teasing and testing him; I felt myself becoming more and more drawn to him. I placed a finger in his mouth, watching him suck on it as he locked eyes with me. He was currently Master Oaks' property, but I felt in my gut that he belonged to me. I had to have him! Of course the rules state he can only be bred by his owner, which meant I was about to be out a lot of cash to secure my prize…
We placed our bids as we continued to fondle his genitals and test his body. His boy cock was thick and long, resting atop two large balls. They were tight to the shaft, giving it a lift into the hair, but also practically begging to be tapped and smacked. I watched as the others sucked on his cock, getting him aroused and hard, waiting back to observe and appreciate his skills.
It was then that Master Oaks ordered him to suck his cock, standing up and pulling down his pants to show that the boy would do anything you asked of him… Anything, anywhere, anytime.
Cole sucked his master's cock, taking it into his mouth and savoring it. The look in his eye was as if he was tasting the most delicious, sweet fruit. It was clear he was worshipping his superior's cock the way he liked it, swallowing it down and slobbering over its girth and length. Another bidder pulled out his cock, and Master Oaks gave his boy the okay to switch over. Rock hard, Cole sucked the stranger's meat, giving it the same attention and devotion as he had Oaks'.
The bidding continued and I kept myself in the lead, letting the men around me get lost in the thrill of using the boy together, knowing that I had to bide my time and outbid them all.
When Master Oaks ordered him to ride his cock, Cole got up on him with haste, taking him immediately into his tight hole using only the saliva he'd left on his shaft. Such a perfect specimen, working his cock on his master's lap as his heavy cock swung in the air. I wanted him! And I was determined to have him...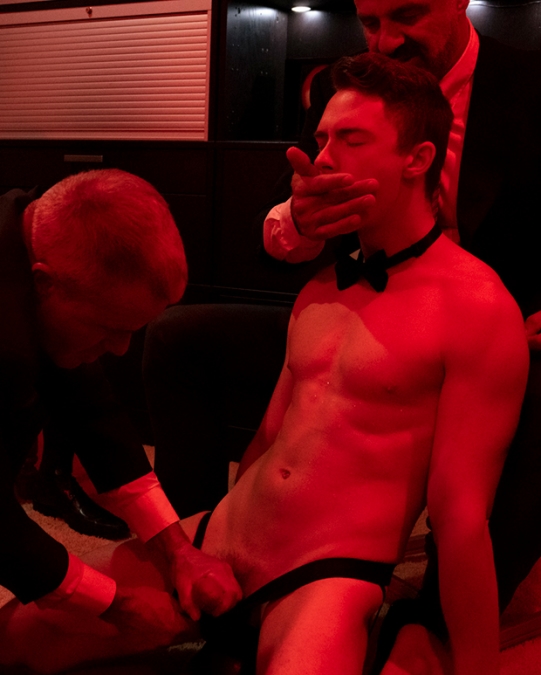 Master Angus is broad, beefy man who cannot hide his power and dominance. He has a thick neck, barrel chest, and a dense salt and pepper beard.

His white shirt and tie make him look like a gentleman, but everything about his body makes it clear that he's a beast. He projects alpha brute power, making betas quake under his gaze.

He's in the market to find a boy he can not only dominate and control, but own and use to his pleasure and to let the beast truly come out.
Master Felix is a man who knows market value. He's an experienced trader of various rarities, including precious stones, antiquities, and fine art. But he's honed his eye lately on the most valuable possession: young, submissive boys.

Master Felix can see what makes them unique, but also the potential return on his investment. Some come to him perfectly trained, beautiful presented, and ready for sale. Others, however, require his knowledge and discipline to bring out their true worth. He's able to see past a rough exterior and see a boy's value after he has been cut down and reshaped.

For this man, there is no greater satisfaction than bringing those finished products to market and seeing his hard work rewarded.
Master Legrand works hard and knows what he likes. He's tall, handsome, and perfectly hung. He could get any man or boy he wanted, but traditional, casual sex doesn't always satisfy him.

Fortunately, he belongs to an elite cadre of gentlemen who share similar tastes and desires--in particular, a desire for those who long to be owned. He loves the thrill of being worshipped by a truly submissive boy, not just someone playing a part.

As a member of this secret group, he's able to indulge in his deepest fantasies with the most pristine, virginal boys without compromising his innate dominant nature.
Master Oaks is your average, suburban dad. He's got the good wife, good family, good job, and the good looks to match. Everything he does and lives is about being responsible, considerate, and generous.

But when he's here, he's able to let go of his cul-de-sac lifestyle and live out his true fantasy: being the king of his castle, master of his domain, and dominant to a beautiful submissive boy.

He relishes knowing that his slave must do whatever he wants, no questions asked, and will submit to his every desire. Nothing makes him feel more alive than breeding a tight, young hole, and he's come to bid on the finest asses he can.